SeneGence Overview
SeneGence Overview
SeneGence has developed highly advanced anti-aging skin care and cosmetics systems that help make every skin type more beautiful and radiant.
SeneGence products can be found in over 13 countries around the world, helping to make skin healthier and more beautiful. The distinctive ingredients incorporated into SeneDerm SkinCare systems, SenseCosmetics beauty items, and the SeneDerm Solutions line, resulting in dramatic improvements to the skin. They also help to provide crucial sun protection without the use of unnecessary chemicals.
The Science of SeneDerm and SenePlex Complex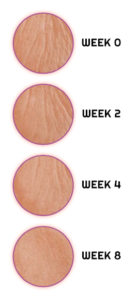 All SeneDerm, SeneDerm Solutions, and creamy SenseCosmetics contain SenePlex Complex, a kinetic enzyme that affects the way cells grow from the bottom layers of the skin to the top. SenePlex ghts the signs of aging by renewing your skin cells an average of 23.3% more rapidly.
Verified by an independent lab, clinical testing con rmed products with SenePlex Complex are highly effective in increasing cellular renewal, and regular use results in remarkable improvements to skin, including: Skin smoothness increased by 45%. Almost 33% more individuals with sensitive skin were able to use SeneDerm SkinCare without irritation.